The Team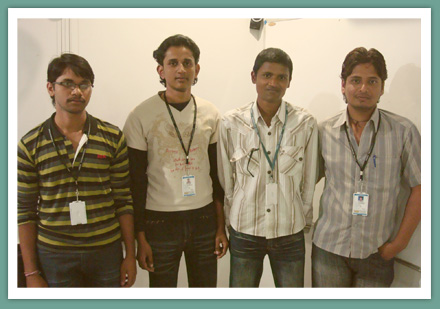 Pranay Bura
Pranay played anchor for the film Trashhed! He presented the story idea, storyboarded the film, created the BG and designed the frog and rats apart from animating the first half of the film.
Pranay's quest for mastering art and honing his creative skills brought him to Dilsukhnagar Arena where he worked on the film Trashhed! Today, he's glad he enrolled here. He finds the infrastructure, faculty and learning environment way above expectations and humbly credits the film's success to the training facility.

After completing his animation training program, he intends to pursue a career in animation. Over time, he wants to evolve into a 2D and 3D character animation specialist. Pranay's innate talent for drawing won him several state and district level prizes at various art and painting competitions. He wishes to continue the winning streak in his career too.
Ravi kiran Reddy CH
Ravi kiran participated in the story discussions and helped refine the story of Trashhed! He also designed the bee and the trash bin and animated the second half of the film.
Ravi kiran holds a Bachelor's Degree in Science and is passionate about drawing. He is currently pursuing his Diploma in Animation Engineering at Dilsukhnagar Arena where he worked on this film. Being his debut effort, Ravi was excited about Trashhed!. He confesses that, being a greenhorn animator, working on a real film was intimidating in the initial stages of production. However, with invaluable support and motivation from his faculty, he was able to overcome the initial hiccups and is now at ease with the discipline.

Ravi considers the opportunity to work on this film as an immensely enriching learning experience. He says, "This one film has built faith in my capabilities and has given me the confidence to enter the animation industry". He envisions a career as a 3D animator and hopes to carve a niche for himself in this dynamic techno-creative world.
Srinivas Reddy B and Varun Kumar M also contributed to the making of Trashhed!. Both of them are pursuing an industry-tailored training program in animation at Dilsukhnagar Arena.